Quilter Tone Block 201 with Deluxe Carry Case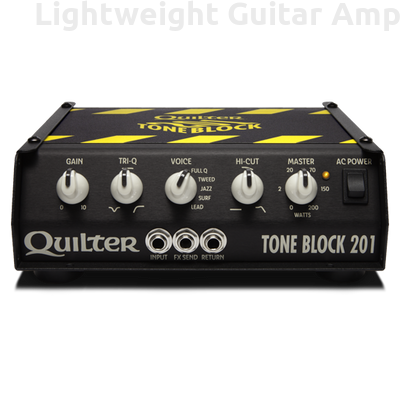 Click to enlarge
Price:
€ 419.00
(€ 329.92 + VAT)
Manufacturer article number:
Quilter Tone Block 201 with Deluxe Carry Case
Availability:

pre-order

Manufacturer:

Quilter amp

200 watt Beast in a 1,8 kg box,  with all features and more - 5 legendary amp character, depending of Your choice!
Description
A guitar head powerful enough to take on even the most heavyweight amp, but light enough and small enough to cozy up on your board with your favorite pedals. With rack mounting options, you can even build the ultimate stereo amplifier for your rack modeling system. With all the tone of Quilter Lab's next generation solid state technology, it is going to feel like you plugged into a tube amp. All analog, no emulation, just amazing tone.
| | |
| --- | --- |
| Weight | 1.8Kilograms |
| Handling power | 200Watt |
| Power | 200 Watts |
| Weight | 1,8 kg |
| Dimensions | 6,35 cm * 21,3 cm * 18,3 cm - 1/2 Rack size |
| Input | 1/4" guitar |
| Controls | Gain, TriQ, Voice, Hi-Cut, Master |
| Connections | Effect loop ( 1/4" Send & Return ), 1/4" Dual speaker out, Direct Out - be the fav of the sound engineer! |
| Universal Power Supply, | |
| Locking power cable | |